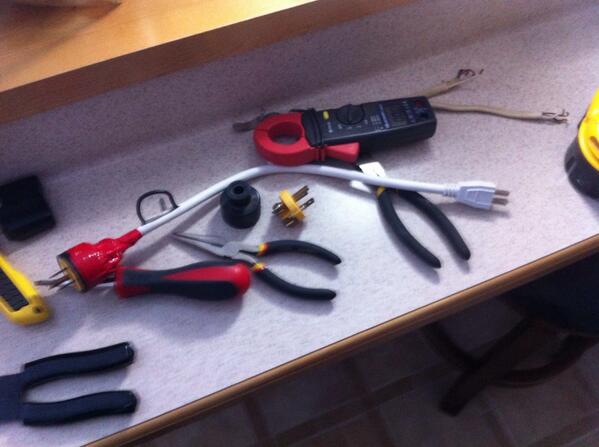 These are my notes for how to handle a power outage when I am running my house on generator. I have a small 2500W generator with a 40 minute gas tank and 1000W inverter for the Prius – or for more extended situations I borrow a 7000W generator with an 18 hour gas tank.
I have built two 110V back-feed adapters by taking a cheap power strip cord, cutting it and adding a male end plus a pulled out loop to read amps using a PYLE Meters PCMT20 Digital AC/DC Auto-Ranging Clamp Meter
. It is nice to be able to check the amp draw in each circuit as you balance. It is especially nice to catch those startup loads (i.e. like laser printers).
Here are my notes:
Back feed outlets
– #1 Dining room to the right of the back door (light load items + Sump Pump + garage)
– #2 Laundry Room (heavy load items – furnace, HW heater, kitchen fridge, basement freezer)
What to turn off / unplug:
– Washer and dryer
– Laser Printers (these pull a massive surge when they start)
– Sump pump (110V) – leave 12V backup sump charger plugged in (on #1)
– Basement freezer (#2)
– Garage refrigerator (#1)
Note: I don't have any UPS / major surge protectors – but I would unplug those if I had them. I don't bother to unplug my power strips.
Small Generator (2500W) scenario:
– #1 runs from Prius with inverter – use only LED lights
– #2 runs from 2500W generator – alternate between
LED Lights:
– Cabinet top and bottom
– Island down lights (2)
– Piano top
– Living Room between sofa and love seat
– Master Bath down lights
– Office desk lamp
– Mud room